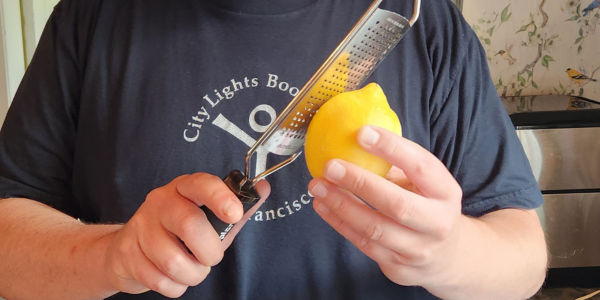 5 Tools in our Kitchen that we Recommend to Anyone
(No affiliate links or commissions to us - we're not that tech savvy yet 🤫)
Sometimes something so simple can make a world of difference when cooking up a meal. Even if it just has 1 or 2 uses - it can be a game changer if you do it on repeat anyway.
Here are our personal game changing kitchen items:
Those Small Cuisinart
 

Food

 

Processors ...

We use this mainly for one thing; quickly mincing garlic, ginger and/or onions. If you're not picky about size or consistency - this does a really great job at getting this done effortlessly and in a pinch. Tip: make sure you give it a quick rinse right afterwards so you're not scrubbing or soaking the stuck remains. 
T-Fal Fresh Express
I don't even think you can find this particular model anymore (message me if I'm wrong, I don't want to be right!!) Because I will shred cheese and carrots no other way if I don't have to. No more pre-shredded bagged cheese to make things easier. And grated carrots are so perfect to add in extra veggies to stir-frys or salads. Those are the only 2 things that I've found work on this thing.
Our
 

Mary

 

blend!

Mary Had a Lot of Lamb was designed for ... you guessed it, lamb. But it naturally pivoted to being our most popular and versatile 'Mary Blend'. It's packed full of herbs, with a nice citrus note of sumac. So when we want to add herbs but don't have herbs, we use Mary. If a new recipe calls for a bunch of different dried herbs; Mary. If I need something similar to an Italian Seasoning; Mary. If I just want to add amazing flavour real quick; Mary.

It's the pantry staple we always keep handy.

 
A good rice cooker.
I can prepare for dinner way in advance by throwing some rice in the rice cooker before hopping out to get the boys from school. One thing checked off the list; out of mind - out of sight. We eat a lot of rice as it's easy with a rice cooker and inexpensive to keep large stocks stored in the pantry. Win-win!
Like this one here
A Microplane.
This is not a small aircraft. This is the best tool in our tool drawer - or sometimes on the magnetic knife rack...
It's a long, thin, sometimes wide, metal tool with a serrated edge used for grated anything like citrus zest, ginger, garlic or parmesan cheese. All things we use on repeat in our recipes.
Here's one that took me 2 seconds to look up - or head to your local kitchen store.
Hope you enjoyed our list of kitchen staples!
If you want to give our
"
Mary Blend
"
a try - you can check her out here and see the recipes we've created based on her flavour.
Your Email Address Will Not Be Published. Required Fields Are Marked *
Subscribe for latest stories, recipes and news!
Subscribe to our newsletter and receive a selection of cool articles every weeks